High realistic lip synchronization for 3D animated characters

Highlights
Dynalips provides a solution to synchronize precisely and automatically the movements of the lips of a 3D character with speech (we address 3D animation movies and video games)
Help professionals (3D animators & game developers) to focus on their main activity
Allow a better emotional and entertainment experience for players and spectators
Addressed problems of lip-sync
3D animation lipsync is time consuming  (3-to-30 seconds of lip-sync → ~ a whole working day)
3D animation movie is only well-made for English (manually animated or using motion capture techniques. The most of the time, non-English version of an animated movie is just dubbed: incomprehensible for hearing-impaired persons and thus a degraded entertainment experience.
Gamers are sensitive to lip-sync problems (bad mouth animation can be very frustrating, and can make gamer less involved in the game!)
Main technological advantages

 provides a multilingual automatic lip-sync solution.
Automatic lipsync solution
Assist 3D animator

Provide a fast and automatic lipsync with high quality
Focus more on the artistic aspects (facial expressions, dramatic effects, etc.)

Video Game

Provide full and accurate lipsync solution to game developer
Fast and highly accurate lip-sync
Artificial intelligence based technology
Methods based on analyzing human speaker data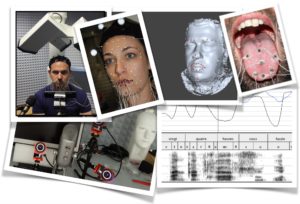 Multilingual lipsync solution
Reduce the barrier of language and culture.
Better entertainment experience
Less frustration due to speech intelligibility problem.
Technology made for
3D animation movies (cinema, tv, multimedia, etc.)
Video games & virtual reality
Speech assistance for:

Second Language learners
Hearing-impaired people
Some examples of the animation quality
Fast and accurate automatic lipsync with Dynalips
An example of our patented animation technique:
You can visit our website at this address www.dynalips.com (made by our web designer najoua kefi)