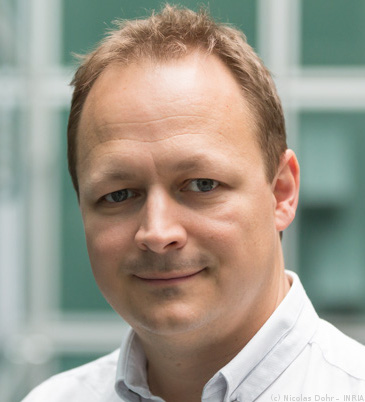 Emmanuel Thomé
CARAMBA team leader
Work: Emmanuel.Thome@inria.fr
Personal: Emmanuel.Thome@gmail.com
GPG public key:
0xA447AA1A (external)
local copy
GPG fingerprint:
F3BC E059 EDA0 FBF5 04FB
0B7F 7728 90BC A447 AA1A
Phone: +33 (0)3.54.95.86.59
Office: B256
Postal mail:
INRIA, Bât. B, CARAMBA
F-54600 Villers-lès-Nancy
Professional experience #
2015-now

INRIA research director (DR2), CARAMBA team leader.

2006–2015

INRIA research scientist (CR1)

2003–2006

INRIA junior research scientist (CR2)
Education and degrees #
2012

Habilitation à diriger des recherches Université de Lorraine.

2000–2003

PhD student (link to PhD thesis) École polytechnique, supervisor: François Morain

1999–2000

University of Illinois, Chicago (visiting scholar)

1995–2000

École Normale Supérieure, Paris, France. élève fonctionnaire.
Awards #
2015

Best paper award, ACM CCS 2015 (link), Imperfect Forward Secrecy: How Diffie-Hellman Fails in Practice, (paper).

2014

Grand prix du chercheur, awarded by Région Lorraine. (link no longer available).

2014

Best paper award, Eurocrypt 2014 (link), A Heuristic Quasi-Polynomial Algorithm for Discrete Logarithm in Finite Fields of Small Characteristic.

2012

Prix La Recherche, factorization of RSA-768. (link no longer available).

2003

PhD award, École polytechnique.
Students #
2008–2011

2011–2015

2013–2016

2014–2018

2018–2020

2018–2021
Past grants #
2015–2020

2013–2016

2009–2012

2006–2009