Research Area
My research area include (but are not limited to): big data management and analytics, large-scale and distributed learning, distributed analysis of large and dynamic graphs, data partitioning as well as applications to bioinformatics.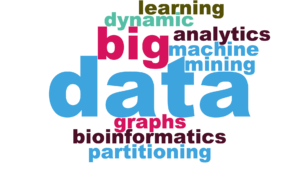 Projects
French-Brazilian CNRS-INRIA-CONFAP research project (2016-2018)
French-Tunisian CNRS-DGRST PICS program (2011-2013)
Auvergne-FEDER project LifeGRID (2009-2011)
Seminars
Cost models for distributed pattern mining in the cloud [Access online]

Date: 2014-02-11, Time: 14:30-16:30
Location: Povo1, Ofek room, DISI department, University of Trento, Italy
Event: DBTrento group meeting

Distributed Graph Mining in the Cloud

Date: 2014-10-08, Time: 11:00-13:00
Location: Povo2, Levico room, DISI department, University of Trento, Italy
Event: DBTrento group meeting

Mining Large Datasets: Case of Mining Graph Data in the Cloud [Access online]

Date: 2014-05-16, Time: 10:00-12:00
Location: LIRIS, Claude Bernard Lyon 1 University, France
Event: Big Data Forum 2014
Reviewer
Reviewing committees

Journals: Pattern Recognition Letters; Knowledge and Information Systems (KAIS); Information Systems

Conferences and Workshops: EDBT 2015; KDIR 2015; BDMA 2014; ICPR 2014; EDA 2013; EDA 2014
PC member


International ESWC 2015 Workshop: Surfacing the Deep and the Social Web (SDSW) 2015
International Conference on Computer Science and its Applications (CIIA) 2015 – Computational intelligence track
Students
Master

Zied Hermi, 2015/2016, co-advising with Haithem Mezni: Frequent subgraph mining in large single graphs.
Chayma Sakouhi, 2014/2015, co-advising with Alberto Montresor and Salma Sassi: Edge-based graph partitioning of large dynamic graphs.
Cyrine Arouri, 2013/2014, co-advising with Engelbert Mephu Nguifo, Cécile Roucelle and Gaelle Bonnet: Towards a constructive multilayer perceptron for regression task using non-parametric clustering. A case study of Photo-Z redshift reconstruction.