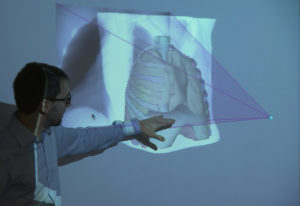 Education
2006: 

PhD in Computer Graphics, "Pulmonary Motion Simulation for Oncological Treatment", University Claude Bernard Lyon 1, Lyon.
2001: MSc in Computer Graphics, "Modeling of new light sources for ray tracing", University Jean Monnet de Saint-Etienne, Saint-Etienne.
2001: MEng in Mechanical Engineering, ENISE, Saint-Étienne.
Research experience
since 2009: Associate Professor, University of Lorraine, Nancy (France).
Aug. 2014 – Jan. 2016: Visiting Professor, Harvard University, Cambridge (USA).
Apr. 2013 – June 2013: Invited Professor, Bangor University, Bangor (GB).
May 2007 – Aug. 2009: Post Doc, Imperial College of London, London (GB).
Oct. 2006 – Feb. 2007: Post Doc, CIMIT, Boston (USA).
2002-2007: PhD student and ATER, LIRIS lab, Lyon (France).
Feb. 2001 – Sept 2001: MSc Intern student, École des Mines, Saint-Etienne (France).
Reviewing committee
Conferences:

MICCAI (since 2010)
ISBMS (since 2009)
ISBI (since 2010)

IADIS

 Computer Graphics, Visualization, Computer Vision and Image Processing (since 2012)
Eurographics Workshop on Visual Computing for Biology and Medicine (since 2014)

Journals:

IEEE Transaction on Medical Imaging
Computer Methods and Programms in Biomedicine
International Journal of Computer Assisted Radiology and Surgery
IEEE Transaction on Haptics
Progress in Biophysics and Molecular Biology
MedicalPhysics
MEDIA
Skills
Virtual Reality in Medicine
79.84%
Augmented Reality in Medicine
50.01%