Karim Bouyarmane, Ph.D.
ブヤルマン カリム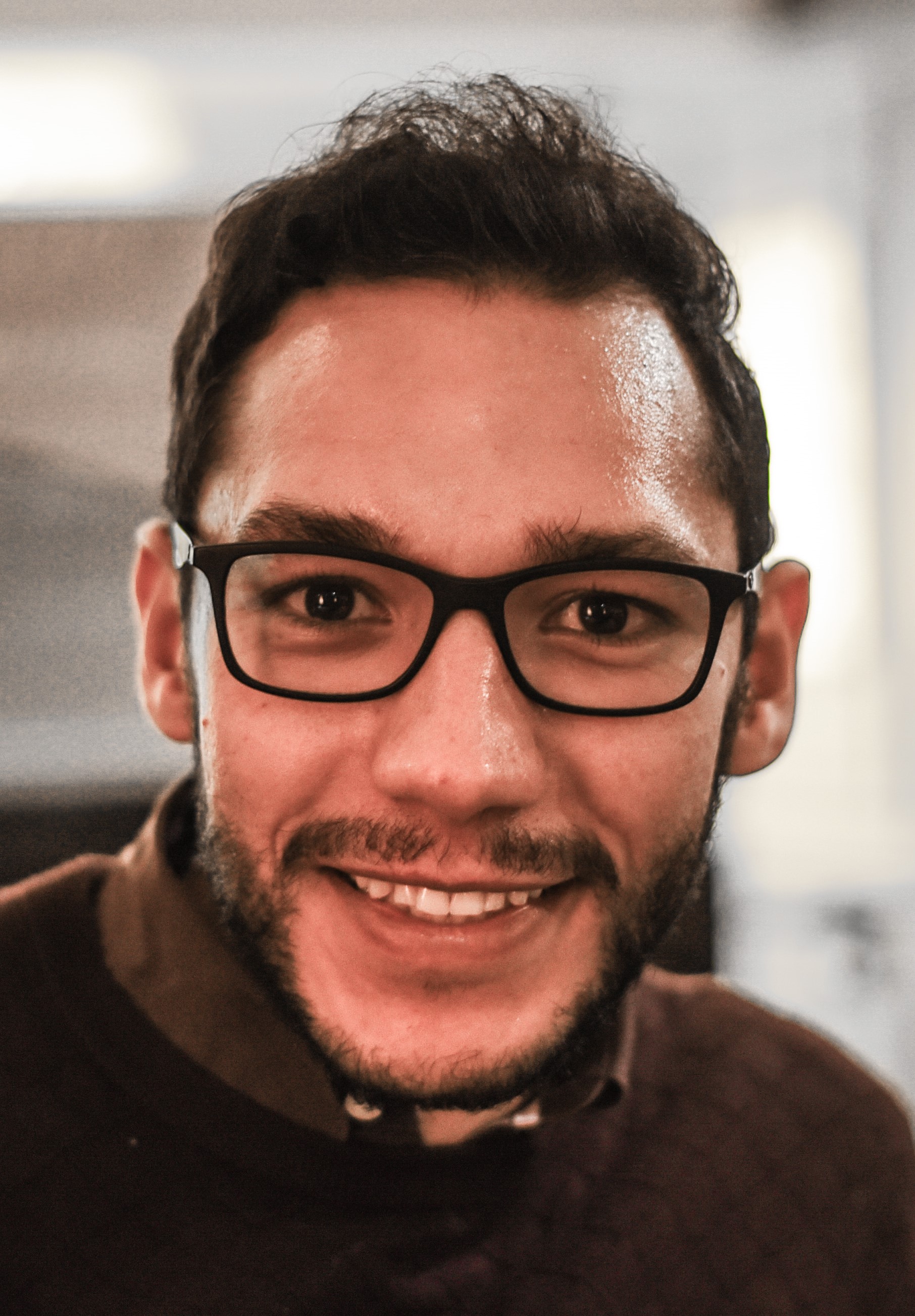 Associate Professor, Université de Lorraine and Inria Nancy Grand Est
Part-time affiliation at Ecole Polytechnique (l'X)
(PhD) Docteur en Systèmes Automatiques de l'Université Montpellier 2
(MSc) Ingénieur de l'Ecole Polytechnique (X 2004)
(MSc) Ingénieur des Mines de Paris


Inria Nancy Grand Est, LORIA UMR 7503
Campus Scientifique, BP 239, 54506 Vandoeuvre-lès-Nancy, France

Polytech Nancy school of engineering
2 rue Jean Lamour, 54519 Vandoeuvre-lès-Nancy Cedex, France
Ecole Polytechnique, Department of Computer Science
Route de Saclay, 91128 Palaiseau Cedex, France
karim.bouyarmane [at] loria.fr / univ-lorraine.fr / polytechnique.edu
Research
Keywords: Artificial Intelligence; Robotics; Intelligent Systems; Autonomous Robots; Automatic Control; Visualization and Computer Graphics; Optimization; Machine Learning; Computational Neuroscience (Brain-Machine Interfaces).
Publications
Book Chapter
K. Bouyarmane*, S. Caron, A. Escande, and A. Kheddar, "Multi-Contact Planning and Control", in Humanoid Robotics: a Reference, Edited by Ambarish Goswami and Prahlad Vadakkepat. Springer, 2018. DOI: 10.1007/978-94-007-7194-9_32-1. To appear (accepted, in press). [SpringerLink] [pdf preprint].
(*: Corresponding Author)
International Journals
International Conferences
Japanese Domestic Conferences
T. Moulard*, F. Lamiraux, K. Bouyarmane, and E. Yoshida, "Roboptim: an Optimization Framework for Robotics," in Proceedings of the 2013 JSME (Japan Society for Mechanical Engineers) Robotics and Mechatronics Conference, Tsukuba, Japan, May 2013. [pdf].
K. Bouyarmane* and A. Kheddar, "Multi-Contacts Stances Planning for Humanoid Locomotion and Manipulation," in Proceedings of the 28th RSJ Annual Conference of the Robotics Society of Japan, Nagoya, Japan, September 2010 (Selected Among Best Presentations). [pdf].
International Competition
DARPA Robotics Challenge (DRC) with the AIST-NEDO team, 2012-2015. [Comprehensive Wikipedia article on the DRC] [Finals, 5-6 June 2015, Fairplex, Pomona, CA] [Trials, 20-21 December 2013, Homestead-Miami Speedway, Miami, FL].
Final standings of the AIST-NEDO team in the finals: 10th (out of 23 finalist teams).
PhD Thesis
K. Bouyarmane, On Autonomous Humanoid Robots: Contact Planning for Locomotion and Manipulation (French title: De l'Autonomonie des Robots Humanoïdes : Planification de Contacts pour Mouvements de Locomotion et Tâches de Manipulation), University of Montpellier (ex Montpellier 2 University), Doctoral School I2S: Information, Structures, Systems, Speciality in Automatic and Microelectronic Systems, Montpellier, France, defended 22 November 2011. [pdf].
Thesis Committee

Prof. B. Espiau
Inria (France)
Chair
Prof. J.-C. Latombe
Stanford University (USA)
Reviewer (Rapporteur)
Prof. J.-P. Laumond
CNRS (France)
Reviewer (Rapporteur)
Prof. A. Crosnier
Montpellier 2 Uni. (France)
Prof. H. Hirukawa
IS/AIST (Japan)
Prof. A. Kheddar
CNRS (France/Japan)
Advisor
General Information
Bio
I graduated from
Ecole Polytechnique
(Palaiseau, France) in 2007 and from
Ecole Nationale Supérieure des Mines de Paris
in 2008 (double Ingénieur diploma in the
French educational system
). I obtained a
University of Montpellier
PhD in 2012, after spending my doctoral program for full time at
AIST
in Tsukuba, Japan, in the
JRL
lab. I subsequently held a two-year
JSPS postdoctoral fellowship
position at
ATR
in Kyoto, Japan, and I worked during the following two and a half years on the
EU (European) FP7
project
Koroibot
and the the
EU H2020
project
COMANOID
at the
LIRMM
lab in Montpellier, France, as a
CNRS
researcher. I am currently a full-time tenured Associate Professor at
Université de Lorraine
. I also hold a part-time teaching position at Ecole Polytechnique.
Curriculum Vitae
| | |
| --- | --- |
| 2017 - pres. | Ecole Polytechnique - Department of Computer Science, Palaiseau, France |
| 2016 - pres. | Inria LORIA - Université de Lorraine, Nancy, France |
| 2014 - 2016 | CNRS LIRMM - University of Montpellier, Montpellier, France |
| 2012 - 2014 | ATR Computational Neuroscience Laboratories, Kyoto, Japan |
| 2008 - 2012 | (PhD) National Institute of AIST, Tsukuba, Japan |
| 2007 - 2008 | (MSc) Ecole Nationale Supérieure des Mines de Paris (Mines ParisTech), Paris, France |
| 2004 - 2007 | (MSc) Ecole Polytechnique (X 2004), Palaiseau, France |
| 2002 - 2004 | (BSc) Classes Préparatoires aux Grandes Ecoles (CPGE) |