Inria is located at 615, rue du Jardin Botanique, 54600, Villers-les-Nancy, France.
From Nancy (city center):
At the train station (gare SNCF), take tram n.1 in direction "Brabois" and stop at "Velodrome" or "Callot". Walk 5 minutes in the scientific campus towards the top of the hill and you will arrive to the entrance of the INRIA building.
Timetables and information about tram and bus can be found on the website of Reseau Stan (public transport system of Nancy). There is also an Android/iPhone app.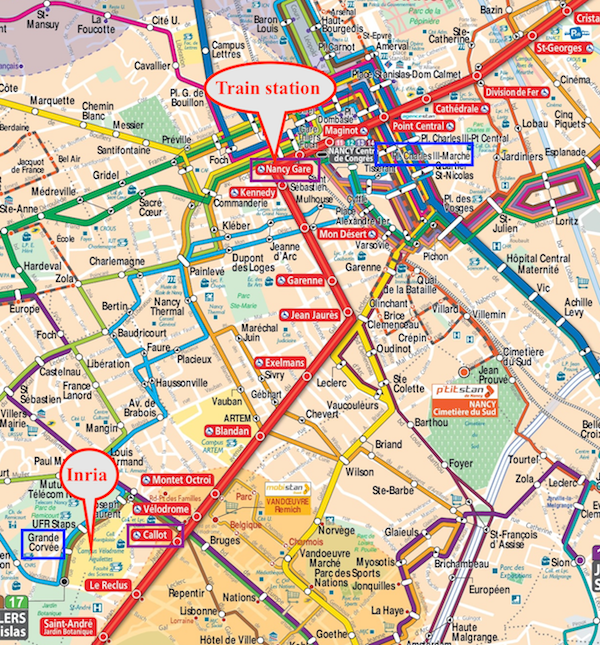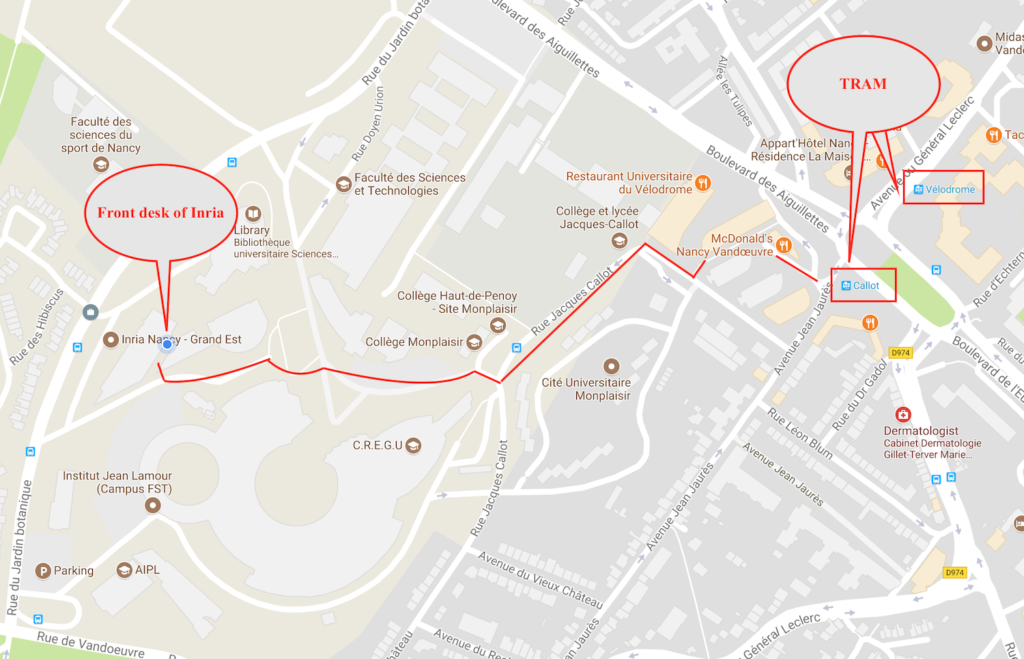 From Paris (city):
From Strasbourg (city):
Note: for people coming from Germany, if you have a direct train to Strasbourg, it may be convenient to do Strasbourg -> Nancy by train, as Strasbourg is linked to many train stations (Frankfurt, Munich, Mannheim, Karlsruhe).
From Paris Charles de Gaulle Airport (CDG):
=> option 1 (to Nancy via Paris Gare de l'Est)
CDG -> Paris Gare Est:

taxi (40-60 min depending on traffic, 50 euro flat rate for Taxis G7, the main Parisian taxi company) 

OR

RER from CDG Gare Trains (located in Terminal 2) to Gare de l'Est (45 min, 10 euro)

Paris Gare Est -> Nancy: train (1.30h-2h depending on the time of the day), buy ticket at http://www.voyages-sncf.com/
=> option 2 (to Nancy via Lorraine TGV)
CDG -> Lorraine TGV:

train from CDG Terminal 2 Gare TGV to Nancy, via Lorraine TGV (1h15-1h30)

Lorraine TGV -> Nancy:

bus navette 

from Lorraine TGV to Nancy center (30 min, 10 euro), then TRAM n.1 to Inria

OR

Taxi directly from Lorraine TGV to Inria (30 min, I don't know the price)
Note: you can book the entire trip of option 2 by purchasing a train ticket from Charles de Gaulle Airport to Nancy, at http://www.voyages-sncf.com/. Your ticket will have both the train ticket and the ticket for the bus navette.
If the correspondence between your flight arrival and train departure is good, I suggest train from the CDG airport to Lorraine TGV and probably taxi directly to Inria (if you are in a group you can share the price). This allows you to avoid the traffic of Paris, both in taxi or RER.
From Luxembourg Airport:
Staying in Nancy
For the hotels, I strongly suggest you to stay in the city center. Inria is located in the University Campus of the Science Faculties (Campus Faculté de Sciences) and it can be easily reached by tram or bus. The city center of Nancy is beautiful, you cannot miss the Place Stanislas, the old Town with the many restaurants, the Parc de Pepiniere, etc. There are many hotels (IBIS, Mercure, Hotel des Prelats, Novotel, …) in the city center, close to the tram. If you are staying longer, there are many apart-hotels (Adagio, Ibis, etc) also close to the tram.
Residences for students
There are many residence for students, on the campus and in the city. For students, Inria will help you in finding a studio.